SYNAPSE
A flexible, interactive medium for spatio-temporal behavioral data collection and analysis. The flexible sensor can be integrated in various surfaces including floors, walls and furniture to measure user's engagement with the space.
Smart Materials | Artificial Intellegence | Urban Data | Human Behavior | Design Innovation
The absence of accurate, real-time information about individual's spatial behavior leaves designers and decision makers without a real space performance metric and may consequently lead to poor judgment and speculations.
Using graphene nanoplatelets and capacitive sensing, this research aims to provide designers and decision makers with an information gathering tool for users' spatial behavioral patterns towards a better evidence-based, contextual, data-driven design process and behavioral research.
Graphene nanoplatelets is used as the principal material for making the sensory electrodes. While Graphene is a relatively newly-discovered material, it has high potential to be integrated into various applications in architecture due to its versatile properties.
For this research, we developed a proprietary, highly-conductive Graphene ink composition. The ink mixture is programmable such that it provides a high conductivity when used for sensory electrodes and high resistance when used for applications such as heating pads.
Graphene ink is deposited on a flexible substrate to form a flexible sensor that can be integrated with various surfaces such as floors, walls and furniture.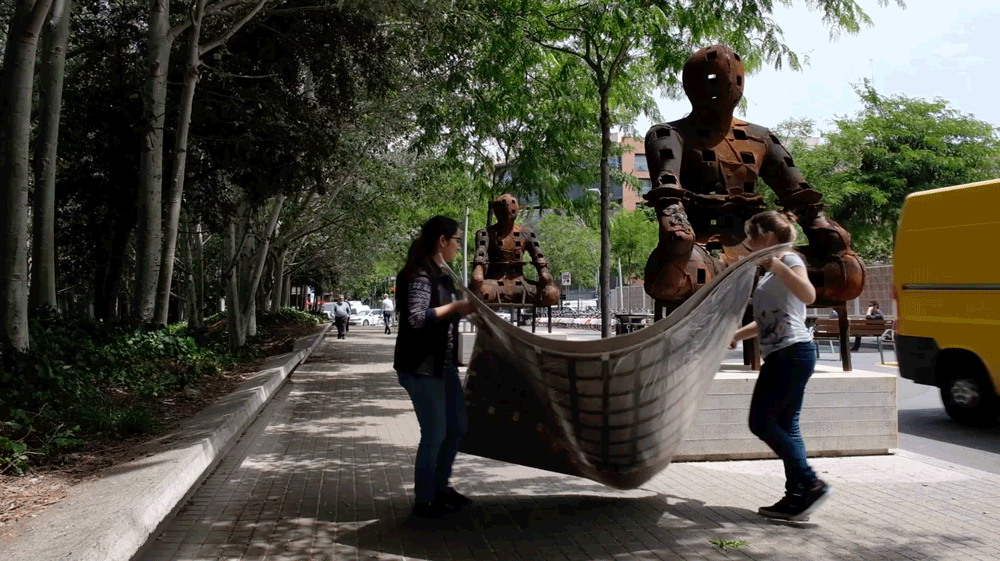 The Superblock in Barcelona is a pilot project where pedestrian and vehicular spaces are physically redifeined to included Public space, play zones, sport zones and urban renewal locations. The goal of this on-site testing was to investigate whether these redefined spaces are being utilized as expected.
The findings showcase that the policy change has not reflected in the desired outcome as pedestrians still prefer to walk on the side pavement rather than in the center.
The occupancy pattern, when overlapped with other spatial information such as Sunlight, Temperature and visual connectivity, can give a cohesive and holistic spatial performance overview. Based on this information many spatial issues can be revealed - like pedestrian
bottlenecks, spatial congestion, ignored/disdained spaces as well as accident-prone areas.
The data obtained is used for dynamic space configuration where the spatial arrangement of an item in a space is computationally configured, based on the factors like user spatial behavioursunlight, and visual connections.
This research was developed in 2018 in IAAC, Digital Matter Studio.
Students: Hayder Mahdi, Shruti Jalodia, Nikol Kirova & Ewald J.